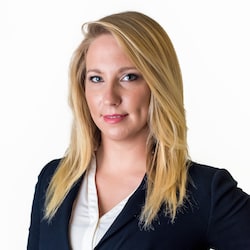 Andrea E. Trax
Andrea received her undergraduate degree in Engineering from the University of Florida ("UF"), with a medical emphasis. After graduation, Andrea worked in leadership for a prominent fortune 500 manufacturing company. Andrea continued her education earning her Juris Doctorate from Nova Southern University.
Before coming to Freeman Injury Law, Andrea worked as an insurance defense litigation attorney for a highly respected firm in West Palm Beach, FL. She handled a broad-based practice, including catastrophic and personal injury, vehicle negligence, and insurance bad faith claims. The knowledge she gained from working inside for insurance companies has been valuable to the plaintiff's side.
Attorney Andrea E. Trax strives to always deliver efficient client-centered representation for those injured as the result of negligence of others. Andrea uses her vast corporate, medical, and insurance defense knowledge to negotiate and communicate with insurance companies to help the injured secure as much compensation as possible.