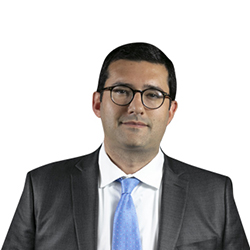 David B. Stauber
David B. Stauber was born and raised in South Florida. He earned his Bachelor of Arts degree from the University of Florida and his Juris Doctor from Boston University School of Law.
Mr. Stauber has represented clients in commercial litigation, class actions, medical malpractice, premises liability, trucking and motor vehicle accident cases, as well as negligent security and wrongful death cases. He is dedicated to providing his clients with the highest quality legal representation. During the span of his career, he has represented a range of clientele, including Fortune 500 banking institutions, product manufacturers, physicians, and business owners and operators, as well as individuals and families at both the trial and appellate levels in the state and federal court systems. Reported cases include United States Sugar Corp., v. Estate of Mullins, 211 So. 3d 110 (Fla. 4th DCA 2017), Litvin v. EFN W. Palm Motor Sales, LLC, 229 So. 3d 1243 (Fla. 4th DCA 2017), and Suarez v. Stewart Enterprises & Travelers, 202 So. 3d 413 (Fla. 1st DCA 2016).
Mr. Stauber is admitted to the Florida Bar and the U.S. District Courts for the Southern and Middle Districts of Florida.