Airbag Burns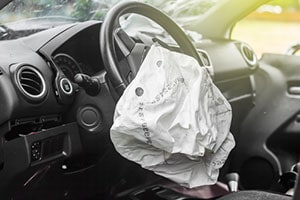 Automobile air bags have done a great job of helping to protect drivers and passengers when accidents occur. Despite their undeniable benefits, air bags also have a track record of causing injuries. While fairly rare, those injuries can be serious. They can leave victims with lifelong scars or permanent disfigurement. If you or someone you love has been injured because of vehicle air bag deployment, speak with a qualified attorney to learn about your rights.
About Air Bag Burns
When deployed, air bag temperatures can reach 500 degrees Celsius.
Drivers may be vulnerable to burns on the hands and forearms due to the placement of air bag vents which release hot gas into the car.
"Hot venting gases can also cause clothes to melt onto the body, particularly lightweight synthetics."
Burns also may occur as a result of direct contact with hot air bags.
Source: ABC News in Science
At the law firm of Freeman Injury Law, our Fort Lauderdale personal injury lawyers have seen the damage that these safety devices can cause. Protecting life should be a top priority of vehicle designers, and we applaud that effort. However, our personal injury and wrongful death attorneys in Broward and Palm Beach counties also know the challenges posed by living with a disfigurement caused by an air bag injury. Our firm has the professional knowledge and resources to examine air bag injury events and to determine how those injuries happened. If negligence or product defects have contributed to your injury, our personal injury and wrongful death attorneys can pursue compensation for you.
When a motor vehicle crash occurs, an electronic signal alerts air bags to deploy. The inflation mechanism causes a chemical reaction that produces the gas that inflates the bag. This sequence of events happens in less than a second. According to the National Highway Traffic Safety Administration, the rapid deployment can cause "serious or sometimes fatal injuries."
Some unfortunate drivers or passengers report burns that occur from air bag deployment. The West Palm Beach personal injury lawyers at Freeman Injury Law know that air bag burns happen in several different ways. Because the bags deploy at such high speeds, the force with which they strike individuals can cause abrasion burns. Usually these aren't severe and don't cause lasting problems. Air bag burns also can happen as a side effect of the inflation process. The bags rely on a chemical reaction to spur inflation. A byproduct of that reaction is a substance called sodium hydroxide, which is capable of causing chemical burns. Some people have sustained eye damage because of sodium hydroxide, increasing the potential for blindness. Our air bag injury lawyers also know that the devices can cause thermal burns from the high temperatures reached by gases and the possibility of melting clothing. Researchers have found that burn injuries caused by air bags most often affect the face, hands, chest, and arms.
If you or someone you care about has suffered injuries from vehicle air bags, contact the Port St. Lucie and Fort Pierce personal injury and wrongful death attorneys at Freeman Injury Law and ask for a free consultation to review your rights. Product defects and other factors can contribute to air bag injuries. Our experienced air bag injury lawyers believe you should be entitled to monetary damages when you were hurt through no fault of your own. We know that burns can be exceptionally painful, and that the scars they leave can last a lifetime. If we don't recover money for you, then you don't owe our firm any fees. Time can be an important factor in compensation claims – call us today.
Freeman Injury Law – (800) 561-7777 -- Someone on YOUR Side