Slip & Fall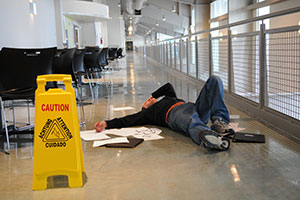 When a person slips and falls and is injured on another's property, they may be entitled to compensation for those injuries. It is true that store owners, hotel managers, bar owners, amusement park staff – all have a legal duty to keep customers reasonably safe.
However, rarely are these cases as straightforward as they may seem, particularly given recent updates to Florida law that adversely affected the rights of slip-and-fall victims.
Our experienced premises liability attorneys at Freeman Injury Law understand that securing a fair settlement or verdict in these cases requires a legal team that is well-versed in property liability laws.
It's a common mistake to assume that just because you fall on someone else's property and are injured, you are entitled to collect damages. That would be considered "strict liability," and Florida doesn't impose that kind of responsibility on property owners and managers.
Slip-and-fall lawsuits are grouped under the umbrella of "premises liability law," which deals with the kinds of duties and responsibilities owed by property owners, as well as the rights enjoyed by various types of visitors.
Florida's New Slip-and-Fall Law
With regard to slip-and-fall cases occurring at a business establishment (where patrons are owed the highest degree of care as "business invitees"), F.S. 768.0755 was updated in 2010 to heighten the proof burden on injured parties.
Before, a plaintiff only needed to show a dangerous condition existed on the property and that it proximately caused plaintiff's injuries. Now, proof of "actual or constructive knowledge" is required. That means plaintiff has to show not only did a dangerous condition exist, but also that store personnel knew or should have known about it and failed to take timely action to remedy the danger.
Most cases hinge on "constructive knowledge" or the "should have known" aspect. The law says that in order to prove constructive knowledge in a slip-and-fall lawsuit, plaintiff has to present circumstantial evidence showing:
A dangerous condition for such a length of time that defendant should have discovered it in the course of exercising ordinary care;
The condition occurred with such regularity that it was thus foreseeable.
From there, plaintiffs must also overcome defenses including the "open and obvious doctrine," which holds people who can plainly see a danger in front of them (i.e., a slippery floor) have a duty to protect themselves by avoiding it. Additionally, injured people need to show injuries they sustained were proximately caused by the fall, and not some other incident or pre-existing condition.
Causes and Consequences of Slip-and-Falls
The U.S. Centers for Disease Control and Prevention estimates approximately 1 million people are treated in hospital emergency rooms annually as a result of slip-and-fall accidents.
Possible injuries resulting may include:
Fractures and sprains of the wrist or arm
Hip fractures
Contusions, abrasions and lacerations of the skin
Facial injuries
Leg and foot fractures and sprains
Concussion/head injury
The National Floor Safety Institute reports 55 percent of all slip-and-fall accidents are caused by hazardous walking surfaces. These include:
Wet surfaces
Recently mopped or waxed floors
Rain or ice trudged in from outside
Spills
Uneven surfaces
These are often preventable conditions, or at least ones that property owners and managers can foresee and promptly address. For example, a store employee may not have created or known immediately about the spill in Aisle 3, caused by a shopper dropping his or her drink. However, the store should reasonably foresee such incidents might occur. If the store conducts routine maintenance and monitoring of the property, as it should in the course of exercising reasonable care, the spill should be discovered and promptly cleaned. If a fast clean-up isn't possible, a "Wet Floor" sign should be posted to adequately warn passers-by of danger.
Slip-and-Falls on Non-Commercial Properties
There will be instances in which individuals will suffer a slip-and-fall injury on non-commercial property, either owned by the government or private individual. These tend to be handled a bit differently, depending on the circumstances.
The government owes a high degree of care to public invitees on public property. It must ensure the property is in reasonably safe condition for those who enter. However, lawsuits against the government require more extensive notice requirements and damages may be capped. It's important to speak with an attorney to determine whether a lawsuit is worth pursuing.
With regard to landlords and private homeowners, they too owe it to guests to keep the property reasonably safe. However, these guests are deemed "licensees" rather than "invitees," and this classification affords a lesser duty of care. In many cases, slip-and-fall injuries that occur on private property are covered under a homeowner's insurance policy. In cases where injury costs exceed the insurance policy limit, homeowners and/or landlords may be found personally liable.
Contact Freeman Injury Law at (800) 561-7777 for a free consultation and review of your claim. You may also email attorney Dean Freeman at dfreeman@lawcenters.com.