Trucking Accident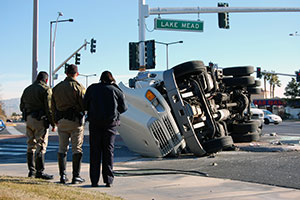 We've all seen the destruction that can result from a crash involving a standard sized motor vehicle. But imagine the devastation when one of the vehicles is a rolling, 80,000-pound commercial truck, semi tractor or construction dump truck that strikes another motorist or pedestrian.
Commercial truck and "big rig" accidents frequently result in serious or fatal injuries to other motorists on the road. The West Palm Beach truck accident lawyers at Freeman Injury Law have been standing up for those who need aggressive legal representation in Florida for years. We understand the depth of tragedy caused by a Florida truck accident and will stand by your side to ensure you have the right voice for your day in the courtroom.
The sheer weight and mass of a large commercial truck make it very difficult to stop or control. Excessive speed and an unsafe truck can also be the cause of a serious truck crash. Our accident investigators will work tirelessly to research every detail of the crash, and develop an aggressive strategy for the fight for your legal rights.
Semi Accident Facts
The University of Michigan Transportation Research Institute found that the odds of a fatality involving a large truck increase with each ton of vehicle weight. A big rig carrying the legal limit of 80,000 pounds is two times more likely to be involved in a fatal crash as a truck weighing around 50,000 pounds.
Statistics from the Highway Research Board determined that one 80,000-pound truck does as much damage to roads as about 9,600 cars.
The owners and operators of large commercial trucking firms have a legal obligation to put safe vehicles on the road, but unfortunately that is not always the case. Shoddy or inadequate repair and maintenance work, little or no documentation regarding their truck's servicing and lack of proper regulation can all lead to a truck accident. In many cases, a truck driver has been pushing the envelope, driving with lack of sleep and at an excessive rate of speed in order to get to his destination on time. Or otherwise violating state and federal safety regulations that are in place to protect the public.
Trucks and big rigs are also notorious for their large blind spots, causing the driver's inability to see smaller vehicles near him. Aggressive driving, tailgating and driving while distracted are all responsible for causing tragic truck accidents.
The National Highway Transportation Safety Administration reports that approximately 380,000 large trucks were in traffic crashes in 2008, resulting in 4,066 fatalities. Big trucks were involved in 11% of all traffic fatalities that year. Of the people injured in crashes involving big rigs in 2008, 71% were occupants of another vehicle, while 26% were occupants of the large trucks.
The complexities of a big rig accident case require a team of skilled attorneys familiar with state and federal trucking regulations. These cases often involve out-of-state drivers, trucking companies and insurance companies, as well as multiple victims and serious or fatal injuries. Hiring a law firm with the experience and financial resources to pursue at-fault parties across the country is critical to winning the compensation you deserve as the result of a serious or fatal trucking accident.
The Florida truck accident lawyers at Freeman Injury Law are fully prepared to fight aggressively for your legal rights, and attain the financial compensation you deserve for your injuries, including medical costs, rehabilitation, lost wages and pain and suffering.
Don't let time run out after being victimized in a trucking accident. Call our offices to schedule a free, confidential consultation to review the facts of your case. We represent victims in Miami, West Palm Beach, Fort Lauderdale, Orlando and the surrounding areas, and we are ready to stand up for your legal rights.
Freeman Injury Law – (800) 561-7777 -- Someone on YOUR Side