Back Injury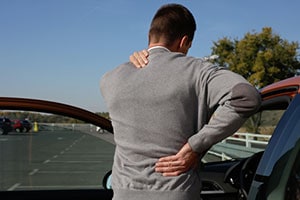 Bones, muscles and tissue make up the region of the body that extends from neck to pelvis. While back injuries are often associated with America's workplaces, nearly half of the severe back injuries that happen in the U.S. occur as a result of motor vehicle accidents. According to the National Institutes of Health, the most common types of back injuries involve sprains, strains, herniated disks, and fractured vertebrae. If you've sustained a back injury in a traffic crash or other circumstance, you may be eligible to claim compensation for your medical care and living expenses. Contact a personal injury lawyer for guidance.
Injuries to the Spine
About 200,000 Americans have spinal cord injuries.
As many as 20,000 people will suffer spine injuries in a year's time.
The average medical cost for the victim of a serious spinal cord injury ranges from $15,000 to $30,000 per year.
Depending on the severity of a spinal injury, lifetime costs could top as much as $3 million.
In cases of severe spinal cord injury, psychological side effects may exacerbate physical problems.
Source: Centers for Disease Control and Prevention
The Fort Lauderdale back injury attorneys at Freeman Injury Law know that injuries to the back may range from simple strains to catastrophic spinal cord damage. If you've been badly hurt in an automobile or other accident, our firm has the medical and legal knowledge to provide you with reliable advice. Following an accident, you'll have decisions to make, beginning with the law firm that you'll entrust. Our back injury attorneys in West Palm Beach have built a solid reputation for their caring approach and their powerful performance as negotiators and as trial attorneys. Serious back injuries demand skilled and experienced attorneys if you're to recover damages sufficient to pay for your medical care, replace lost wages, and provide for your future needs.
Our personal injury and wrongful death attorneys have seen many instances of back injuries. We know that the pain such injuries cause can be deceptive because of the construction of the nervous system. You may have damage to your back that results in pain in your legs and feet, or in your arms and hands. Instead of pain, you may experience stiffness, numbness, weakness, or tingling in various body parts. The Centers for Disease Control and Prevention warns that the most severe back injuries can affect the spinal cord, causing partial or complete paralysis, neurological issues, breathing problems, elimination challenges, and other complications.
At Freeman Injury Law, our Fort Pierce and St. Lucie back injury attorneys know that serious back injuries can mean a lifetime of medical needs. Specialized and adaptive equipment may be required to facilitate your care. If a severe injury leaves you with mobility impairment, you home may need to be adapted to meet your needs. Our skilled personal injury lawyers know that the extent of your physical damage may not become apparent immediately after an accident. That's why we intervene on behalf of our clients to handle interactions with insurance adjusters. Sure, their companies want to offer quick settlements that enable them to keep payouts low. But our experienced accident attorneys know that careful consideration must be given to both your current and future needs. We also know that settlements must reflect the needs of loved ones who depend on you.
When you face a serious back injury, you want the peace of mind that comes from knowing you've made the strongest possible choice in legal representation. The Fort Lauderdale personal injury and wrongful death attorneys at Freeman Injury Law have proven their proficiency in handling cases involving back injuries. When you need advice you can rely on and advocates who have your best interests in mind, call our firm. Ask for a free initial consultation to discuss your injuries. We can explain your options and take action to protect your rights.
Freeman Injury Law – (800) 561-7777 -- Someone on YOUR Side