Boating Accident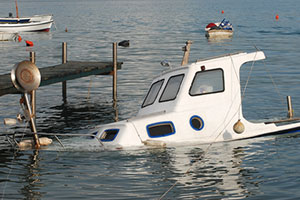 Florida is the boating capital of the United States, with thousands of vessels of all varieties enjoying our waterways everyday. Unfortunately, it also leads the nation in the number of serious and fatal boating accidents each year.
The West Palm Beach boating accident lawyers at Freeman Injury Law serve victims and their families in Florida. Our attorneys understand the complexities of Florida boating laws, and are prepared to aggressively fight for your legal rights if you have been injured in a boating accident.
There were over 980,000 registered vessels in Florida in 2009. The Florida Fish & Wildlife Commission reports that Florida leads the nation in the number of boating accidents, with 678 reported in 2008.
Boating Accident Statistics
52% of the fatal accidents were in vessels less than 18 feet in length.
39% of the fatal accidents were falls overboard (20 accidents).
74% of the victims of fatal boating accidents were males (48).
18.5% of the boating fatalities were caused by alcohol or drug use.
Florida's total fatality count for 2009 is reported as 65.
18% (9) of the fatal accidents involved non-motorized vessels.
Source: Florida Fish & Wildlife Commission
Summer is the riskiest time of year to be on the water. July is shown to be the month in which most boating accidents happen. People falling overboard, crashing into another vessel or a fixed object, running aground or capsizing can all cause serious or fatal injuries. In fact, the FWC reports that the major cause of boating accidents is simple failure to operate the vessel safely. The top three reasons cited for boating accidents during 2009 were operator inexperience, operator inattention and excessive speed.
Of course, alcohol also plays a major role in the cause of boating accidents. A hot day on the water combined with the consumption of alcohol can be a deadly mix. The practice proves even deadlier when the boat operator is unaware that the same impaired driving laws apply to boats on the water as well as cars on the road.
Boating fatalities are the result of two factors – drowning, by 69% - and trauma caused by a collision, 29%.
Even with the abundance of boater education courses and information on boating safety available, 89% of people involved in a boating accident in 2009 had received no boat safety operation education or instruction.
Here on Florida's east coast, the extensive waterways and vast Atlantic Ocean are filled with boats of all varieties, from small personal watercraft to 150-foot mega-yachts. So it's not surprising that Palm Beach County ranked 3rd for the number of accidents in 2009 with 56, and Miami-Dade came in at the number two spot with 62.
The Florida boating accident attorneys at Freeman Injury Law understand the allure of the aquatic recreational lifestyle here in Florida. And we are dedicated to aggressively pursuing compensation for those who have been injured by the careless and reckless boaters who make the waters dangerous for the many responsible and dedicated boat owners and enthusiasts. Our office serves Miami, Fort Lauderdale, West Palm Beach, Maitland, Orlando and the surrounding communities. We urge you to contact us immediately if you have been seriously injured while boating. We will arrange a no-obligation, private consultation to discuss your legal rights.
Freeman Injury Law – (800) 561-7777 -- Someone on YOUR Side