Brain Damage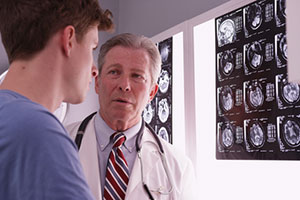 Traumatic brain injuries are the result of some external force – usually a violent blow or jolt to the head or body – causing brain dysfunction.
Injuries to the brain are a common occurrence as a result of vehicle accidents, boating accidents, sporting accidents, and falls. Brain injuries are also known as "closed head injuries" and can range in various degrees of seriousness, from concussions and brain contusions, to bleeding inside the brain or a fractured skull.
The experienced injury attorneys at Freeman Injury Law understand every year, 2.5 million people in the U.S. suffer a brain injury, according to the Centers for Disease Control and Prevention (CDC). When those injuries are the result of some negligent action or omission by another person or company, it may be possible to secure monetary damages through a personal injury lawsuit.
Doing so may help the injured person and/or loved ones recover a degree of financial stability by shouldering the cost of medical bills, ongoing care, lost wages and overall pain and suffering. It's imperative injured parties speak with a qualified injury lawyer before filing a claim or seeking benefits. These cases tend to involve complex medical and legal issues, so consulting with an experienced attorney is important for long-term physical and financial stability.
Who Suffers from Traumatic Brain Injury?
A recent study published by researchers at the University of Pittsburgh Medical School found emergency room visits for traumatic brain injuries spiked nearly 30 percent in recent years. This was attributable to an increase in concussions, but also a greater awareness of head injury dangers and doctors being increasingly vigilant in diagnose and treatment.
While professional athletes in certain sports are at high risk for sustaining such injuries, they are not the only ones. There is a growing awareness that children, too, can suffer these type of internal injuries, even while playing at the elementary school level.
But athletes aren't the only ones at risk.
In fact, the biggest increase in emergency room visits for traumatic brain injuries in recent years was among toddlers and seniors. The CDC recently reported nearly 475,000 emergency room visits for traumatic brain injury are made by children between the ages of birth and 14 years. Meanwhile, adults over the age of 75 have the highest rates of hospitalization and death for traumatic brain injuries.
Leading causes of traumatic brain injuries include:
Falls (40.5 percent)
Struck by/against (15.5 percent)
Motor vehicle accidents (14.3 percent)
Assaults (10.7 percent)
Other (19 percent)
Effect of Traumatic Brain Injury
The severity of a traumatic brain injury – and as a result, the lifelong impact and costs – will depend significantly on the following factors:
Severity of the initial injury
The rate and completeness of the physiological recovery
The type of functions affected
The resources available to aid in recovery
Areas of function not affected by the injury
Someone with a moderate to severe brain injury can expect to have trouble with concentration, attention, memory, processing speed, confusion, impulsiveness, language processing and other so-called "executive functions." Many people report issues with comprehension of speech and language, including communicating with slurred speech or speech that is very slow or fast.
Others report problems both reading and writing or failing to understand spoken words or in effective oral communication. Many report loss of vision and hearing problems, and often have difficulty interpreting sensory data, such as temperature, touch movement and limb position. There are also increased indications of seizures, and a large number of traumatic brain injury victims report chronic pain and emotional trouble, such as deep depression and anxiety.
All of this can affect one's long-term ability to function in social, emotional and professional spheres.
Proving Negligence in Brain Injury Cases
Because the potential causes of traumatic brain injury are so varied, the approach your attorney will take is going to depend on the individual facts of the case.
Generally, though, most personal injury lawsuits arising from traumatic brain injuries are rooted in theories of negligence. To succeed in such an action, a claimant needs to show:
The defendant/at fault party owed a duty of care to plaintiff/injured person
Defendant breached this duty by failing to act with reasonable care
Defendant's action or inaction was the proximate cause of plaintiff's injuries
Plaintiff suffered quantifiable injuries and/or losses
Our experienced West Palm Beach brain injury lawyers have proven success in winning compensation for brain injury victims. We are waiting to hear from you.
Contact Freeman Injury Law at (800) 561-7777 for a free consultation and review of your claim. You may also email attorney Dean Freeman at dfreeman@lawcenters.com.