Broken Bones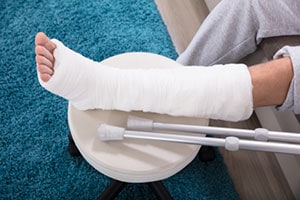 When motor vehicles collide, broken bones are a commonly reported injury suffered by drivers and passengers. The sheer force of a traffic crash can mean severe breaks and multiple breaks in the same bone. Because fractures sustained in car accidents tend to be serious, they also are more likely to require surgical intervention. That may necessitate the use of plates, screws, or other hardware to facilitate correct realignment and repair. When a motor vehicle accident has left you or someone you care about with broken bones, you may need the help of a skilled attorney in order to get the medical care you need and to recover damages.
Car Accident Injuries
In 2009, more than 4.2 million Americans sustained injuries in crashes of cars, trucks, motorcycles, and other vehicles.
Injuries related to motor vehicle crashes are the leading cause of death for people under age 35.
Emergency rooms treat more than 2.3 million Americans every year for injuries sustained in motor vehicle accidents.
Injuries and deaths related to car crashes are estimated to cause $70 billion in lifetime costs.
Source: Centers for Disease Control and Prevention
The Fort Lauderdale personal injury and wrongful death attorneys at Freeman Injury Law have extensive medical training in addition to their legal professional credentials. That makes our firm a unique choice for accident and injury victims who want to be assured of the best possible representation. We are pleased to put our skills to work for you when you've suffered broken bones and other injuries at the hands of a negligent or careless motorist. If you've been hurt in a traffic crash, the West Palm Beach car accident lawyers at our firm urge you to contact us as quickly as possible. Your right to pursue compensation may be time-limited. We want you to know your rights.
Our accident attorneys have seen the extent of damage that injuries sustained in a traffic crash can cause. When multiple fractures necessitate surgery, the expense associated with your medical care can skyrocket. Why should you be responsible for thousands of dollars in treatment costs when you were injured through no fault of your own? And how are you expected to pay your rent or your house payment and other living expenses when injuries keep you from working? The Palm Beach personal injury attorneys at Freeman Injury Law will take decisive action on your behalf to pursue the maximum compensation available to help you with all the expenses that arise because of your injury. We believe that you and your family shouldn't have to pay the price for someone else's liability. We'll work to see that the at-fault motorist is held responsible.
It's important to remember that broken bones may not be a simple type of injury. Even after surgery to repair the fractures, you may require long-term physical therapy. If breaks involve weight-bearing parts of your body, you could suffer lasting problems with your mobility. Breaks involving the hands and arms can affect your dexterity, making some types of work more challenging and others, impossible. Permanent disability can be the unwelcome result.
Your choice of an attorney in the aftermath of a car accident that left you with broken bones can be vitally important. An experienced lawyer who knows how to build a strong case for compensation can make the difference when it comes to the amount of the settlement you may receive. At Freeman Injury Law, our St. Lucie and Fort Pierce personal injury attorneys bring to their work a powerful combination of professional medical knowledge and proven legal capabilities. As negotiators and as trial lawyers, we provide the solid proficiency needed to win monetary damages for injury victims. Don't risk your future well-being – or that of your loved ones. Contact the accident attorneys at Freeman Injury Law for hard-hitting legal skills you can count on. Call today to schedule your free consultation.
Freeman Injury Law – (800) 561-7777 -- Someone on YOUR Side