Catastrophic Injury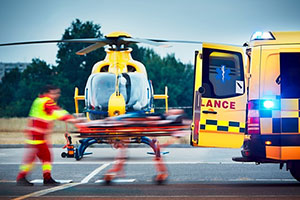 Any injury suffered as the result of an accident caused by the negligence of another can be truly tragic, no matter how severe.
But the devastation and long-term ramifications of suffering a catastrophic injury can change lives and will involve astronomical medical bills, recurring treatment costs and other challenges for which no family can be prepared without the proper help.
Traumatic Brain Injury Statistics
The leading causes of TBI are falls (28%), motor vehicle accidents (20%), being struck or banging head against an object (19%), and assault (11%).
The two highest-risk age groups are 0 to 4 and 15-19.
Men are one-and-a-half times more likely to be the victim of a head injury than women.
TBI is the leading cause of death and disability among children and young adults.
More than 5 million people in this country (nearly 2% of the population) are living with the medical complications of a head injury, including long-term disability.
Being shot is the most common type of fatal head injury.
The lifetime cost of medical treatment for someone with a head injury can be as much as $2 million.
Centers for Disease Control and Prevention
The West Palm Beach catastrophic injury lawyers at Freeman Injury Law, serve Miami, Fort Lauderdale, West Palm Beach, Maitland, Orlando and the surrounding areas.
If you are dealing with a catastrophic injury – including burns, amputation injuries, spinal cord injuries, brain injuries or loss of eyesight – please call our office today for a free appointment to discuss your rights. We will visit you at the hospital to discuss your situation.
Please do not give any statements to anyone, do not accept any payments and do not sign any documents. The decisions you make in the next few days will impact the rest of your life.
Catastrophic injuries are most often categorized as those involving amputation, severe burns, loss of hearing or eyesight, paraplegia or quadriplegia, brain trauma, paralysis, organ damage and spinal cord injury.
The result of a catastrophic injury can mean extensive care and treatment for the rest of a victim's life. The injured and their families can expect to deal with the victim's inability to earn a living, extreme physical pain, mental anguish and psychological disorders, permanent disability and emotional pain and suffering.
These circumstances most generally result from a brain or spinal cord injury, some of the most severe types of catastrophic injury. Traumatic brain injury, often referred to as TBI, affects nearly 1.4 million Americans per year. Of that number, 50,000 will die, 235,000 will be hospitalized, and more than 80,000 will be left with life-long disabilities, according to the Centers for Disease Control and Prevention.
National Spinal Cord Injury Association
Spinal Cord Injury Statistics
Causes:
Motor vehicle accidents: 44%
Acts of violence: 24%
Falls: 22%
Sports: 8%
Other: 2%:
82% male, 18% female
Average age at injury: 33.4
Most frequent age at injury: 19
2/3 of sports injuries are from diving
A spinal cord injury could take place in the victim's back or neck, and cause paralysis.
Loss of motor skills, impaired breathing and other bodily functions, poor speech and debilitated cognitive skills can result from a serious spinal cord trauma, and require a lifetime of care.
The Florida catastrophic injury attorneys at Freeman Injury Law are fully prepared to guide you through the medical, insurance and legal concerns you will be facing, and to provide the aggressive representation necessary to fully protect your rights.
Call our offices today to schedule a free, no obligation consultation with our catastrophic injury team to plan the fight for justice on your behalf.
Freeman Injury Law – (800) 561-7777 -- Someone on YOUR Side