Choosing a Work Injury Lawyer in Fort Lauderdale or West Palm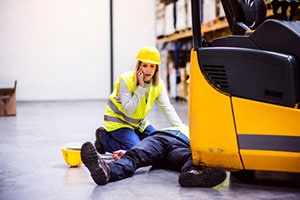 Although U.S. workplaces are some of the safest in the world, illnesses, injuries and even death can result from the many situations and potential hazards that employees encounter every day. Most recent reports from the U.S. Department of Labor note that 4,340 deaths per year occurred nationwide due to workplace injuries. In private industry, the number of people with nonfatal occupational injuries and illnesses tops 1 million per year.
Facts about On-the-Job Illnesses and Injuries
Figures show that about 113 out of every 10,000 employees will fall victim to work-related illness or injury this year. In private industry, these occupations report the highest rates of injuries and illnesses:
Service jobs
Transportation/material moving
Production jobs
Construction
Most at risk are workers on the job from 1 to 5 years. New hires with less than 3 months' tenure have the lowest rates of illness and injury. And most work-related incidents happen on Mondays.
Source: U.S. Department of Labor
Work injury lawyers at Freeman Injury Law are experienced in all aspects of workplace injuries and illnesses. If you've been injured on the job or suspect you may have been exposed to potentially toxic substances at work, contact our firm for a free consultation. Our workers' compensation attorneys can provide you with expert analysis of your situation. Our staff is experienced in both medical and legal facets of workplace injuries and illnesses. When you need someone on your side, Freeman Injury Law will aggressively pursue the compensation to which you're entitled.
What sort of injuries can happen on the job? By far, strains and sprains are the most-often reported. General pain and soreness, bruises, cuts and lacerations also happen frequently, as do repetitive motion problems, such as carpal tunnel syndrome. Burns, amputations and other types of trauma harm thousands of employees each year.
U.S. Department of Labor statistics confirm that most injuries reported in private industry affect the trunk of the body, especially the back. The upper extremities – arms, hands and fingers – are frequent injury sites, as are the lower extremities – knees, ankles and feet. More than 112,000 injuries each year affect multiple parts of the body.
The Centers for Disease Control and Prevention list such common occupational illnesses as allergies, asthma and other respiratory diseases, loss of hearing, skin problems, stress, tuberculosis, MRSA, cancer, and bloodborne infectious diseases. Problems can result, too, from such workforce hazards as lead, asbestos, carbon monoxide, dust, aerosols, exhaust fumes and more.
It is unfortunately apparent that the potential for injury, illness, even death, is widespread on America's jobsites. If you or someone you care about has suffered an injury at work, been exposed to a toxic substance, or become ill or died because of job-related factors, don't delay. Contact the Fort Lauderdale and West Palm Beach workers' compensation lawyers at Freeman Injury Law. We'll meet with you free of charge to discuss your situation. You pay nothing unless we recover compensation for your suffering. When you need a strong advocate on your side, call Freeman Injury Law.
Freeman Injury Law – (800) 561-7777 -- Someone on YOUR Side