Drunk Driving Accident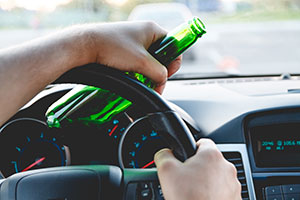 Far too often in today's society, accidents caused by drunk drivers kill or injure an innocent person. The National Highway Traffic Safety Administration reports that someone dies in a drunk driving accident every 45 minutes of every day. And Mothers Against Drunk Driving calls it the most frequently committed violent crime in America. The reckless act of getting behind the wheel of a car after consuming alcohol continues at epidemic proportions, causing a flood of devastation, sorrow and fear among victimized families left to deal with the aftermath of a serious or fatal drunk driving crash.
The West Palm Beach drunk driving accident lawyers at Freeman Injury Law take no obligation more seriously than our representation of the victims of drunk driving accidents. We work with those victims, and the families of victims, who's lives have been violently catapulted into despair and turmoil, as they face physical, emotional and financial pain and suffering. Our aggressive representation on your behalf will help ensure that you receive fair financial compensation for your losses.
Most of these cases include criminal charges against the offender. And we will work with your family to ensure that your voice is heard and that you are kept aware of developments as the at-fault driver faces criminal prosecution. However, our most important task will be fighting for the maximum compensation available to you and your family. While money is frequently inadequate solace, protecting your financial well-being is critical in the wake of a serious or fatal drunk driving accident.
Florida Drunk Driving Statistics for 2008:
There were 792 fatal accidents in Florida in which at least one driver had a blood alcohol content of 0.8% or above.
875 people died in accidents where at least one driver had a blood alcohol content of 0.8% or higher.
165 people died in accidents where at least one driver had a blood alcohol content between 0.01% and 0.07%.
Source: NHTSA
A drunk driver – and there are an alarming number of repeat offenders – can not only cause catastrophic injury and fatalities in a crash, but the long-term ramifications can often be overlooked without the correct legal team on your side. Will you be able to work, to provide for your family? Do you know what the continued physical and rehabilitative therapies will cost? Are there long-term complications that could impact your future financial, emotional and physical well-being? These are the questions that Freeman Injury Law will ask and answer at each stage of your case.
Drunk driving accidents are not only some of the most horrific types of crashes, they are some of the most intricate in terms of legal strategies. Perhaps a restaurant or bar, and their employees, may be found to have continued serving the drunk driver after having full awareness that he was intoxicated. Under Florida law, those who served alcohol to an intoxicated person may also be held responsible for a serious or fatal accident.
Organizations like Mothers Against Drunk Driving, (MADD), and local and state law enforcement officials have affected the rate of drunk driving accidents. And the number of injuries and fatalities continues to drop. Increased public awareness and education, aggressive enforcement of the laws through sobriety checkpoints and other tactics used by law officers have been able to at least curb the accident rate.
And still, one-third of all fatal crashes in the United States are a direct result of drunk driving.
Don't allow the destruction caused by a drunk driver to turn your life upside down. The West Palm Beach drunk driving accident lawyers at Freeman Injury Law have been successfully and aggressively representing victims and families in Florida for years. Our research, dedication and perseverance for justice on your behalf can be your best ally in the fight for your legal rights. Call us today to schedule a no-obligation appointment to discuss your case.
Freeman Injury Law – (800) 561-7777 -- Someone on YOUR Side