Falls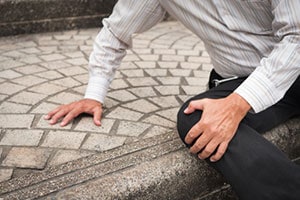 Falling down is far more serious than most people realize. Falls are a leading cause of death, of spinal cord damage, and of brain injury. A senior who suffers a fall is likely to break bones, including a hip, and may never leave a nursing home facility after recovering from fall injuries. Victims of any age who suffer a fall can have their lives changed forever.
Many falls happen because of preventable hazards. When unsafe conditions or a workplace accident leads to your fall, Florida laws protect you. Fall injury attorneys Freeman Injury Law help fall victims and family members of those who suffered fatal falls. Call today to schedule a consultation and learn about the legal assistance that we can offer to help you receive compensation and benefits when a fall leads to serious or fatal injuries.
Leading Causes of Falls in Nursing Homes
While many situations can precipitate falls, the leading reasons nursing home residents fall are these:
Physical weakness
Difficulty walking (gait)
Hazards in the environment

Dim lighting
Slippery floors
Equipment malfunctions

Impairment caused by prescribed medications
Difficulty with transfers (bed to chair, for example)
Ill-fitting footwear
Incorrect use of equipment such as walkers
Falls in the Workplace
Falls are one of the "Fatal Four" top causes of death among construction workers. But falls can happen anywhere on any work site in any industry. Falls can occur when someone tumbles from a higher elevation, like falling off of something or falling into a hole. Falls also happen when someone slips or trips from the same level. Both falls from a high elevation and falls on the same level can lead to broken bones, serious injuries, and death.
When a fall happens at work, victims can't sue their employers. However, they can file a workers' compensation claim to receive disability benefits, wage loss income, and payment of medical bills. Workers' compensation claims allow benefits to be provided to injured worker after virtually any fall, even if there was no employer negligence or wrongdoing that led up to the accident.
While suing an employer isn't possible, victims can sometimes file a lawsuit after a fall on a worksite, which would allow them to get broader compensation than through workers' comp. If a third party like a project manager was negligent in a way that led to your fall, a civil lawsuit may be your best option.
Freeman Injury Law helps injured workers or family members of those who were killed on-the-job. We will provide assistance with workers' compensation claims for injury or death benefits, and we'll help you to determine if any third parties can be sued for the harm you experienced due to your fall.
Fall Injuries on Commercial Property in South Florida
Falls happen in many other places besides worksites. You could fall at a nursing home if you are a senior resident and staff is negligent, or you could fall in a store, restaurant, or public place where the property is not adequately maintained.
Property owners have a basic obligation to make sure their premises is reasonably safe, while nursing homes have a duty to ensure their residents receive proper care and supervision. If you can prove a breach of duty led to your fall, you can file a personal injury claim. If your family member was killed and you can prove the death was caused as a result of negligence leading to a fall, you can obtain compensation though a wrongful death lawsuit.
Freeman Injury Law has helped many clients throughout South Florida whose lives were changed by preventable falls. Our goal is to help ensure you get compensation for medical costs, wage loss, loss of future earning power, pain and suffering and other damages. We know what is involved in proving fall injury cases and we are ready to help you pursue your case for damages.
Contact a Florida Fall Injury Lawyer
Freeman Injury Law will be there for you every step of the way after a fall. Our experienced fall accident attorneys in Fort Lauderdale, West Palm Beach and Orlando have helped many clients avoid going to court by negotiating settlements that provide them with fair compensation. We are also experienced litigators who are ready to make a case to a jury about why you deserve to be compensated for the losses and damages a fall has caused.
Do not sign any paperwork and do not assume that you can't be compensated for a fall either at work or anywhere else. Call 1-800-561-7777 or contact us online to schedule a free consultation with Freeman Injury Law today to learn more about your rights and to learn how a Florida injury attorney can help you.