Florida Nursing Home Neglect Attorneys/Bed Sores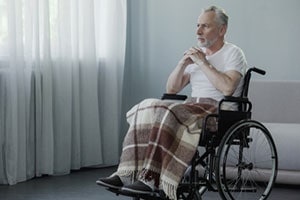 When nursing home residents suffer neglect, one telltale sign is the development of bed sores. Also called pressure sores or decubitis ulcers, bedsores happen when the bony parts of the body press against a mattress or other outside surface for a sustained period of time. In other words, when an ill or disabled person can't move – or is not moved often enough by healthcare staff – the skin becomes damaged and a bed sore occurs.
Why Do Bed Sores Cause Such Concern?
When bed sores – or pressure ulcers – go untreated (or don't respond successfully to medical care), they can lead to other conditions that severely damage the body. Some of those conditions may even result in death.
Complications from bed sores may include:
Sepsis, an infection that is caused by bacteria penetrating the body through the broken skin of a bed sore. Sepsis travels rapidly through the bloodstream, ultimately causing organs to fail.
Cellulitis, an infection of the connective tissue of the skin that can progress into sepsis or the brain infection known as meningitis.
Infections in joints and bones may result from bed sores that progress to the deepest stages. Infections in the joints and bones can permanently affect mobility and the ability of those body parts to function properly.
An aggressive form of cancer that destroys specific types of skin cells also has been connected to bed sores.
Source: Mayo Clinic.
With more than 70,000 individuals receiving care in Florida's nursing homes, the potential for understaffing and neglect becomes alarming. Fort Lauderdale nursing home neglect and abuse lawyers Freeman Injury Law bring years of experience to cases involving the kind of neglect by nursing home staff that can cause residents to suffer with bed sores.
Bed sores, or pressure sores, most often form on the areas of the body where skin has little padding over joints or other bones. The hips, the heels of the feet and the buttocks of weakened patients are particularly vulnerable because they are in constant contact with beds and wheelchairs that exert pressure on them. The shoulder blades, arms, head, knees and back also are common sites of pressure ulcers. Along with sustained pressure, the friction caused by movement can scrape tender skin and cause bed sores, too. The National Pressure Ulcer Advisory Panel has created a four-stage profile to classify the severity of bed sores.
Stage I describes a red area on the skin. At this stage, the sore may cause pain or it might itch. The skin can feel warm to the touch. A firm or spongy texture is common. At this early stage, relieving the pressure that caused the redness can avert further problems.

Stage II ulcers signal the actual loss of skin. This may affect the outermost layer (epidermis) and/or the underlying layer (dermis). At this stage, the sore is an obvious wound on the skin. It may look like an abrasion with purple or red discoloration.

Stage III bed sores indicate that even more damage has taken place. By this time, the wound affects not only the skin, but also the underlying tissue. In other words, the wound has grown significantly deeper and may take on a crater shape.

Stage IV describes the most advanced damage. At this stage, a patient may lose significant amounts of skin, while also suffering extensive damage to the tissue underneath. Muscles, bones and even joints can be adversely affected.
Diligence and good medical care can help prevent bed sores or promote healing if they do occur. However, pressure sores may happen even when nursing homes give their residents capable care. People who are paralyzed, those who are too ill to move, individuals who are recovering from injury or surgery and others whose mobility is compromised are at risk for developing bed sores. Most recent statistics from the U.S. Department of Health & Human Services confirm that more than 500,000 hospitalizations due to bed sores took place during a single year.
Successful treatment of bed sores may involve a multi-faceted approach that combines position changes, special supports for affected parts of the body, removal of damaged skin, application of topical preparations and dressings, administration of antibiotics and other interventions. In severe cases, surgical procedures may be required.
If you suspect that someone you care about has developed a bed sore because of improper or inadequate treatment in a nursing home or other facility, contact the Port St. Lucie and Fort Pierce nursing home abuse and neglect attorneys at Freeman Injury Law. Rely on their professional expertise and analysis to provide you with a better understanding of the situation and of the actions that can be taken to help your loved one receive the kind of care they need.
Freeman Injury Law – (800) 561-7777 -- Someone on YOUR Side