Hit and Run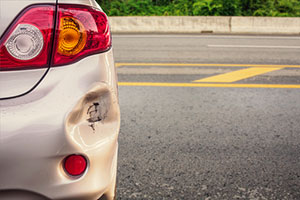 The tragedy of being the victim of an accident is compounded when the crash is a hit and run. Victims can be left defenseless and without medical aid during the critical minutes following a crash and recovering damages can be complicated in cases where the at-fault driver is not located.
The West Palm Beach hit and run accident lawyers at Freeman Injury Law are dedicated to helping hit-and-run accident victims throughout Florida. We will work to ensure that your case is not forgotten by law enforcement and other authorities and can work to help you seek a recovery from you own insurance company in the event that the at-fault driver is never located.
Government statistics show that almost 11% of all vehicle accidents are hit and run, with almost 700,000 hit and run accident cases reported each year nationwide. The National Highway Safety Administration reports a 15% increase in hit and run accidents since 1998.
Florida Hit and Run Penalties
Effective as of October 2006, leaving the scene of an accident involving a fatality became a first-degree felony, punishable by up to 30 years in prison.
As of July 2007, leaving the scene of an accident involving death and the driver was found to be under the influence of alcohol or drugs nets a mandatory two-year minimum prison sentence.
FHP
A hit and run accident is one in which the driver flees the scene of the crash before law enforcement arrives, and/or fails to render assistance to the injured party, which is against the law. The severity of the situation is compounded by other factors. If there were severe personal injury or death, the hit and run driver would face felony charges. Other charges may involve a hit and run driver striking a worker in a highway construction zone, or if the accident occurred in a marked slow speed zone.
Florida ranks third in the U.S. for hit-and-run accidents, according to the NHTSA. Between 2003-2007, the state averaged 3,300 hit-and-run accidents annually.
People who flee the scene of an accident do so for a variety of reasons. Panic sets in, especially if the driver has been drinking or is otherwise impaired. Fearing a DUI charge, they elect to run. In many cases, the hit and run driver may not have a valid drivers license, or carry the legal minimum requirement car insurance coverage. Such cases require aggressive legal representation to ensure the rights of the victim are protected.
Even though a person who causes a hit and run accident may not have adequate insurance coverage, the injured victim may still be able to recover financial damages for their injuries through Florida's uninsured motorist laws. If you have the correct coverage, your own insurance may pay certain costs incurred due to a hit and run accident.
The lawyers Freeman Injury Law understand the devastation such accidents cause, and are fully prepared to aggressively stand by your side and fight for your legal rights. If you have been injured in Miami, Fort Lauderdale, West Palm Beach, Maitland and Orlando or any of the surrounding communities, we urge you to take immediate action to protect your rights, and obtain the rightful financial consideration you deserve under the law.
Contact our offices to learn more about our case results, and to schedule a no-cost consultation to discuss your case.
Freeman Injury Law – (800) 561-7777 -- Someone on YOUR Side