Motorcycle Accidents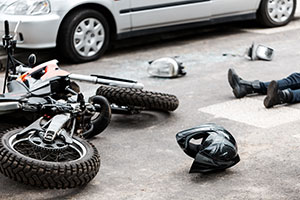 Motorcycle accidents are traumatic, debilitating, too often fatal – and most always, preventable.
State departments of transportation across the U.S. report more than half of all motorcycle-vs.-car accidents are caused by drivers entering a rider's right-of-way.
Florida motorcycle accident attorneys at Freeman Injury Law know these crashes can be life-altering, leaving victims severely injured, disabled or dead. In many cases, there is legal recourse for compensation, but you will need to address these issues early on with an experienced law firm.
We understand well the many complexities involved with motorcycle injury and wrongful death cases, including:
Florida Motorcycle Law
Motorcycle Accident Causes
Common Motorcycle Injuries
Motorcycle Accident Injury Claims
The U.S. Centers for Disease Control and Prevention (CDC) reports the economic cost for motorcycle crash-related injuries and deaths every year is $12 billion.
That's the cost incurred by the public for medical expenses, emergency medical services, loss of productivity and loss of life.
The cost to individuals and families is enormous. It may involve a prolonged time off work. It might mean never being able to return again to a once-lucrative job. It could be a lifetime of medical treatments or constant care. And all of that doesn't even consider the loss of life enjoyment and profound impact on personal relationships that such an accident can have.
Our West Palm Beach motorcycle accident lawyers will fight to make sure you and your family are compensated to the fullest possible extent for these losses. Our experienced injury attorneys are dedicated to fighting for the rights of the injured and offer private consultations at our offices throughout Florida, including Miami, Fort Lauderdale, West Palm Beach, Maitland and Orlando areas.
We encourage motorcycle accident victims to contact our offices as soon as possible after the crash, so we can start a preliminary review. The sooner you involve an attorney, the better your chances that the investigation will preserve key information critical to your case.
Motorcycle Accidents in Florida
Motorcycles have less visibility and stability than the average motor vehicle, and because riders are less protected than those in cars, motorcycle operators and passengers tend to suffer higher injury rates overall.
The National Highway Traffic Safety Administration (NHTSA) reports that per vehicle mile traveled, motorcyclists are 26 times more likely to perish in a crash than those in passenger cars.
The total number of motorcycle deaths has gone up substantially in recent years. Federal statistics show:
1990 – 2,790 motorcycle deaths
1994 – 1,995 motorcycle deaths
2004 – 3,593 motorcycle deaths
2014 – 4,035 motorcycle deaths
Even as overall traffic fatalities have dropped, motorcycle injuries and deaths have not. In recent years, there have been an estimated 88,000 motorcycle injuries annually in the U.S.
What's more, the NHTSA reports Florida has the highest rate of motorcycle fatalities nationally. In 2013, there were 467 total motorcycle riders killed on Florida roads. The only other two states that came close were California and Texas, with 435 and 457, respectively. Bear in mind, those states have many millions more people than Florida.
Motorcyclists 40 and older comprised 55 percent of those killed in 2013 crashes, compared to 46 percent in 2003.
Top Motorcycle Crash Causes
A number of factors could play a role in motorcycle accidents, but for the most part, serious crashes involve cars or trucks. In those situations, research tells us that other drivers are most often to blame.
The University of South Florida's Center for Urban Transportation Research analyzed a decade of Florida motorcycle crashes and found that 60 percent of the time, it's the motorists in other vehicles who are at-fault when they collide with motorcycles.
Lead researchers told The Sun-Sentinel there is a bias among most drivers because they do not expect to see motorcycles on the road – even though motorcycles have as much right to the road as any other vehicle. Distraction, too, is an increasing problem on roadways that affects all motorists, but disproportionately impacts motorcyclists.
These problems underscore the common, "I didn't see him!" refrain we hear so often after motorcycle crashes. Because drivers owe a duty of care to operate cautiously and with appropriate consideration for all vehicles, this is not an adequate defense in a negligence lawsuit.
The NHTSA reports half of all motorcycle accidents involve another vehicle. In those cases:
Two-thirds of the time, these are frontal collisions;
6 percent of car-vs-motorcycle accidents are rear-end collisions;
In 42 percent of these cases, the other vehicle was turning left while the motorcycle was traveling straight, passing or overtaking other vehicles;
Excessive speed is a factor in one-third of all motorcycle accidents.
Other commonly-cited issues were driving under the influence, following too closely and drivers swerving in front of bikers.
Compensation for Florida Motorcycle Accidents
If you suffer an injury in a Florida motorcycle accident, you may be entitled to damages, including:
Past and Future Medical Expenses
Lost Wages
Pain and Suffering
Mental Anguish
Loss of Consortium (spouses)
Your personal injury protection (PIP) benefits through your motorcycle insurance should cover your expenses if you suffer minor injuries, as Florida is a no-fault car accident state. In addition, if you suffer a broken bone, a disfiguring injury or other injuries, you may proceed with a claim for further damages against the other driver.
Freeman Injury Law – (800) 561-7777