Nursing Home Rights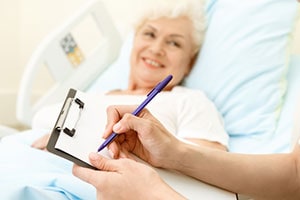 Respect for elders is something most people are taught from a young age. Still, nursing home residents are too often treated with a lack of respect and basic dignity, which is why we've seen an increase in litigation stemming from nursing home abuse and neglect.
The nursing home abuse lawyers at Freeman Injury Law know it's also why Florida legislators were prompted to pass a measure specifically outlining the guaranteed rights of nursing home residents.
F.S. 440.022 details nursing home resident rights in Florida. These rights mirror the protections outlined in the federal Nursing Home Reform Act of 1987, which was passed with the basic objective of making sure residents at nursing homes received the kind of quality care that allows them to maintain their best possible physical, mental and psychosocial well-being. From this objective was formed a "Bill of Rights."
These rights are:
Freedom from mistreatment, abuse and neglect.
Freedom from physical restraints (these may also include chemical restraints).
To be treated with dignity.
To expect privacy.
To participate and resident and family groups.
To exercise self-determination.
To accommodation of physical, medical, psychological and social needs.
To communicate freely.
To voice grievances without reprisal or discrimination.
To participate in the review of one's care plan and to be fully informed in advance when there are changes in treatment, care or status within the facility.
Florida law expanded these rights by including:
Civil and religious liberties
Communication that is private and uncensored.
Visitation by any person providing social, health legal or other services.
Examination of results of recent facility inspections.
Manage his or her own financial affairs.
Refusal of medication and treatment, with an understanding of the consequences.
Freedom of choice regarding physician or pharmacy.
Notification of prior room changes.
Be transferred or discharged only for medical reasons, safety of other patients or nonpayment.
Receive 30 days' notice of a challenge or discharge, and the opportunity to dispute it.
Separate rights for those living in assisted-living facilities or in adult family care homes are listed in F.S. 429.28 and F.S. 429.85.
While not every single one of these rights may be grounds for litigation, violating numerous rights may be used to establish a pattern of negligence within a facility, should litigation be pursued.
As part of the oversight, a certification process was established allowing state authorities to conduct irregular and unannounced surveys, resident interviews and site inspections at least once every 15 months. While these inspections usually focus on general issues of resident rights, quality of life, quality of care and extent of patient services, they can sometimes be more targeted when there is a specific complaint or a series of complaints.
Complaints can be filed with the facility itself, though Florida residents also have the option of filing a complaint with either the Florida Long-Term Care Ombudsman Program or the Agency for Health Care Administration. The former is trained to protect the rights of residents and ensure they are receiving appropriate care. They will work as a mediator to attempt to solve certain issues. The AHCA is the agency responsible for handling licensing and regulation of nursing homes in Florida.
Violations can result in a range of actions, from a directed plan of correction and state monitoring to monetary civil penalties, denial of Medicare or Medicaid reimbursements or even termination of the provider agreement.
Still, even with state and federal oversight, nursing home abuse and neglect is far too common in Florida. This is why it's so imperative for relatives and other loved ones to be vigilant in watching for potential signs of problems.
These might include:
Bed injuries
Dehydration
Emotional agitation, withdrawal or upset
Frequent falls or bruising indicating falls
Infections
Wandering that results in endangerment
Malnutrition (or rapid weight loss)
Pressure ulcers (also known as bed sores)
Reluctance to talk in the presence of nursing home staffers
Unexplained injuries, including bruises, welts, cuts or wounds, particularly if they are in various stages of healing
Sudden or unusual changes in behavior (fear of being touched, biting, rocking, etc.)
Wanting to be away from others
Conditions that are unclean or actions that are unsanitary
Injuries requiring hospitalization
Heavy medication or sedation
Frequent illnesses, particularly when those aren't reported swiftly to the doctor and/or the family
Broken bones (particularly fractured hip)
Any injury or death that is unexplained or unexpected
Remember: You are your loved one's first line of defense. Don't hesitate to step forward and make it known when something isn't right.
Contact Freeman Injury Law at (800) 561-7777 for a free consultation and review of your claim. You may also email attorney Dean Freeman at dfreeman@lawcenters.com.