Pedestrian Accident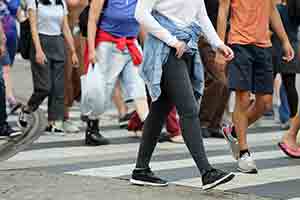 Florida is one of the most hazardous states for walkers. Whether traversing a parking lot, sidewalk, roadside or intersection, the potential for a car-vs-pedestrian accident is high in the Sunshine State.
The Florida Department of Transportation reports the pedestrian injury rate here is nearly double the national average – 2.60 per 100,000 persons. It's also the highest rate in the country. Although Florida represents just 6 percent of the U.S. population, it accounts for 11 percent of all pedestrian deaths.
In a single year recently, Florida officials tallied:
499 pedestrian deaths
2,072 nonfatal pedestrian injury hospitalizations
7,650 non-fatal emergency room visits from people on foot struck by cars
Our Pedestrian accident lawyers at Freeman Injury Law are dedicated to fighting to ensure victims and their loved ones are fully compensated for their losses. These incidents are entirely preventable and almost always caused by careless, inattentive motorists. Our experienced injury attorneys are dedicated to fighting for the rights of the injured and offer private consultations at our offices throughout Florida, including Miami, Fort Lauderdale, West Palm Beach, Maitland and Orlando.
If you have suffered injury in a pedestrian accident, you may have legal recourse. Compensation could include reimbursement for:
Medical Bills
Lost Wages
Pain and Suffering
Mental and Emotional Distress
Loss of Consortium (spouse)
These are often very serious personal injury cases. When a person is struck by a vehicle, they are at risk of:
Traumatic Brain Injury
Spinal Injury
Back Injury
Broken Bones
Facial/ Dental Injuries
Internal Injuries
Our injury attorneys are adept at auto insurance negotiation, but we have the resources to take the case to trial if it is in our client's best interest. We recognize that recovering damages in a pedestrian accident case can be more complex than in other situations, particularly because of the high number of hit-and-run pedestrian crashes.
In those cases, uninsured/ underinsured motorist (UM/ UIM) coverage may come into play.
It's important if you are injured in a pedestrian accident in Florida that you or a loved one contact an experienced injury lawyer as soon as possible to ensure the rights and well-being of you and your family are protected.
Danger for Florida Pedestrians
The Centers for Disease Control and Prevention (CDC) reports pedestrians are 1.5 times more likely per trip than occupants of passenger vehicles to be killed. In fact, there is a pedestrian death in the U.S. every 2 hours.
In fact, the number of Americans killed in pedestrian accidents – 47,025 – between 2003 and 2012 was 16 times the number of people killed in earthquakes, floods, tornadoes and hurricanes combined. Another 676,000 were injured in pedestrian accidents during that time.
The Dangerous by Design 2014 report, prepared by Smart Growth America and the National Complete Streets Coalition, revealed the problem is especially pronounced in the Southeastern U.S. – and particularly in Florida. The reason has to do with the fact that much of the Southern infrastructure was designed and built in the post-WWII automobile era. The mindset of that time was to design roads that would accommodate fast-moving cars – and little else. They were not constructed with pedestrians in mind.
The National Highway Traffic Safety Administration (NHTSA) reported that in 2013, there were 4,735 pedestrians killed in traffic crashes, accounting for 14 percent of the total number of fatal accidents.
Florida reported 501 pedestrians killed that year – second only to California, which with double the population reported 701.
Researchers discovered:
More than two-thirds pedestrians killed in crashes are males.
More than one-fifth of the children between the ages of birth to 14 years killed in traffic accidents are pedestrians.
More than one-fifth of pedestrians killed in car accident were struck by hit-and-run drivers.
These accidents also disproportionately affect seniors (who account for 1 in 5 pedestrians killed), as well as Black and Hispanic minorities.
Although FDOT and a number of cities have launched Complete Streets initiatives to retrofit existing infrastructures with more pedestrian-friendly elements, it continues to remain a serious problem.
Common causes of pedestrian accidents include:
Driver inattention
Driver failure to observe speed limits
Driver failure to use turn signals
Driver impaired by alcohol or drugs
Driver disobeying traffic signals or signs
While it's true pedestrians also sometimes contribute to accidents that result in their own injury, it's important to point out that Florida injury law adheres to a comparative fault model, per F.S. 768.81, which means those injured are not stopped from collecting damages just because they shared some of the blame.
Collecting Compensation for Pedestrian Accident Injuries
There are a few avenues your injury attorney may explore in collecting damages stemming from pedestrian accidents.
These are:
Personal Injury Protection (PIP) Benefits
Claim for UM/ UIM Benefits
Lawsuits for Additional Damages
PIP benefits are paid as part of Florida's no-fault auto insurance system. If you have your own auto insurance, these benefits will be derived from that policy, up to $10,000. Otherwise, you can collect PIP benefits from the driver's insurer. There are important deadlines for claiming such compensation, which is another reason it's critical to consult with an experienced personal injury law firm as soon as possible.
If your damages exceed available PIP benefits (and they often do in pedestrian accidents), you can file a lawsuit for additional damages if you can prove the driver was in some way negligent and therefore responsible for your injuries and/or your loved one's wrongful death.
However, if the driver fled the scene or did not have insurance or doesn't have enough insurance for you to seek additional benefits, you may still seek UM/ UIM benefits through your own auto insurance company.
If you have questions about your legal options following a Florida pedestrian accident, we can help.
Freeman Injury Law – (800) 561-7777