Personal Injury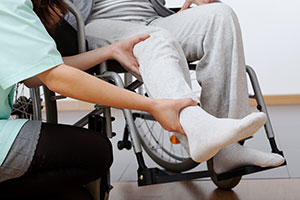 Accidents do not just happen, they occur because people and businesses fail to live up to their obligations. Everyone from doctors to drivers has a basic duty to those around them not to engage in behaviors that create unsafe situations. When this duty is breached, victims who are hurt or those whose loved ones are killed have certain legal rights.
Tort laws in the state of Florida allow injured victims to seek compensation from any person or entity who caused them harm. Making a personal injury claim can be complicated, but you will not get compensation unless you take action. Our West Palm Beach personal injury lawyers are dedicated to fighting for the rights of victims after they are hurt in Florida.
Personal Injury Claims in Florida
Florida laws protect individuals and consumers from many different kinds of harm. You are entitled to products that are safe, to safe roads to drive on, and to quality medical services from those you trust. When you visit someone's property or are out in public, you are entitled to count on the fact that the property is reasonably safe and that a dog won't bite you. These are just a few of the many different rights we enjoy.
Just as you have rights, others around you have duties. Individuals and businesses have obligations to act appropriately to protect those who they interact with. The specific obligations that are owed are going to vary based upon the situation. However, at a basic minimum, all rules designed to ensure safety- like speed limit laws- must be followed.
Civil lawsuits are the means by which injured victims can take legal action when they are harmed as a result of a breach of duty. You have a limited period of time in which to file a lawsuit when you or someone you love is hurt. This lawsuit is called a personal injury claim. A personal injury attorney can help you to take the appropriate steps to make your case.
When Do You Have a Personal Injury Claim?
You may have the right to make a personal injury claim in many different situations. For example, you can make a case after:
Medical malpractice
Nursing home negligence
Car, truck, bicycle, motorcycle and pedestrian collisions
Dog bites
Slip and falls and injuries caused by defective properties or unsafe spaces
Defective product injuries
Freeman Injury Law offers free consultations to people after injuries. We can help you determine the cause of the accident or injury and whether anyone was to blame. In many cases, there are multiple parties who could be held liable for losses. For example, after a truck crash, you could sue the truck driver and trucking company if the driver was negligent or the trucking company and mechanic if the vehicle was not properly maintained.
You are the only one with the power to call an injury lawyer and enforce your rights. If you do not make your claim within the time limit provided by the statute of limitations, your ability to file a lawsuit will be lost. You could be left coping with injuries on your own, with no way to pay medical bills or support yourself if the accident made work impossible. Do not ever hesitate to call an injury lawyer and enforce your rights.
Contact a Personal Injury Lawyer Today
Freeman Injury Law represents only victims who have been hurt by negligence or wrongdoing --we don't handle any cases on behalf of insurance companies. We can provide assistance litigating an injury claim or negotiating an out-of-court settlement that allows you to be compensated without going to trial. Our goal is to resolve your case effectively and quickly so you get the money you need to move on. You won't pay for our services unless we get compensation for you, so you have nothing to lose.
Call today at (800) 561-7777 or contact us online to learn more about how the law in Florida protects you after an injury and to get your case started.