Rollover Accidents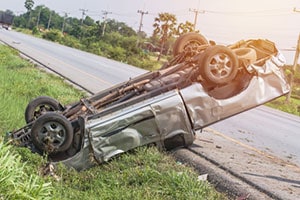 Of the more than 40,000 vehicles involved in fatal crashes each year in the U.S., about one in five experiences a rollover. Here in Florida, nearly 550 vehicle rollovers occur in fatal crashes, according to the National Highway Traffic Safety Administration. The NHTSA calls rollovers "complex events that reflect the interaction of driver, road, vehicle, and environmental factors." If you or someone you love has been hurt or killed because of a vehicle rollover, contact a qualified attorney for guidance.
Fatal Rollover Accidents in Florida
State statistics on fatal traffic crashes in which rollovers occurred reveal the types of vehicles involved:
Passenger cars - 166
Light trucks - 355
Large trucks - 22
Buses - 0
Other/unknown - 6
Total vehicles - 549
Source: National Highway Traffic Safety Administration
The Fort Lauderdale accident attorneys at Freeman Injury Law know that injuries sustained in rollovers can be severe. Especially when vehicle occupants don't use seat belts or when those belts fail. Our personal injury and wrongful death lawyers know how to take decisive action to protect your rights. We've seen the lasting effects of injuries due to rollovers: Spinal cord damage, traumatic brain injuries, multiple broken bones and other serious injuries can leave you unable to move about or even to live independently. And if you've lost a loved one because of a rollover accident, you'll want the security of knowing you've chosen our experienced personal injury and wrongful death lawyers to pursue compensation for that loss.
Rollover accidents happen when a vehicle tumbles onto its side or roof during a crash. When drivers lose control and a vehicle begins to slide to the side, striking another vehicle, a railing, a curb, a pothole, or uneven ground can cause the vehicle to tip and then flip over. Vehicles also can tip if drivers try to turn at unsafe speeds or if they swerve and then err in overcompensating.
Vehicle design can be a major factor contributing to rollovers. Sport utility vehicles and light trucks have higher centers of gravity that can spell problems. The Insurance Institute for Highway Safety reports a decade-long rise in fatalities for occupants of SUVs, noting that half of those deaths can be blamed on rollovers. The percentage of occupants who lose their lives in rollovers in light trucks is nearly as high, but for cars, the proportion is only 25%.
In 2009, nearly 8,300 people died in rollover accidents nationwide. More than 2,500 people lose their lives in traffic crashes in Florida in a year's time, the NHTSA reports. Rollovers occur in about one in five fatal accidents on the state's roads. Injuries to the head – which can result in brain damage – are among the most common effects of a rollover accident. They happen when vehicle occupants are not restrained or when restraint systems fail, and drivers and passengers are thrown about the vehicle or ejected from it. The Palm Beach accident attorneys at Freeman Injury Law know that traumatic head injuries can leave victims forever changed. Brain damage may make it impossible to recover your physical or mental abilities. Treatment for such severe injuries often requires long-term medical care. Our firm is committed to winning the monetary damages you need to ensure that paying for that care will not be a concern.
If you've sustained injuries in a rollover accident, talk to the Port St. Lucie and Fort Pierce accident attorneys at Freeman Injury Law to learn about your rights. We have the resources to analyze the crash that hurt you and to build a compelling case to win compensation that can pay for your medical care, lost wages, property damage, and your pain and suffering. Our experienced personal injury lawyers know how to determine the kind of funds that will be necessary to ensure your care both now and in the years ahead. Your choice of attorney now can have a profound effect on your well-being. Call Freeman Injury Law and you'll see why our firm is a leading choice of accident victims throughout South Florida. If you aren't able to come to our offices for a free consultation, we'll come to your hospital room or home. You deserve proven and aggressive representation.
Freeman Injury Law – (800) 561-7777 -- Someone on YOUR Side