Shoulder Injury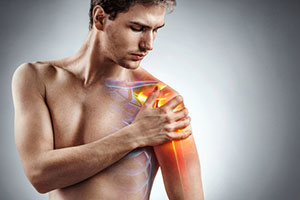 If you have suffered a shoulder injury, you know how quickly it becomes apparent that every time you move your arms, your shoulders move, too. When an injury damages the shoulder joint or the surrounding muscles and ligaments, that constant movement can mean nearly continuous pain. If a reckless motorist, an employer, or someone else has caused you to sustain a shoulder injury in a traffic crash, a workplace fall or other situation, you may need the advice of a knowledgeable attorney.
Shoulder Injuries
Sudden or acute injury to the shoulder can cause intense pain, swelling and other symptoms. Examples of acute injuries:
Strains – muscle pulls
Sprains – ligament injuries
Fractures – broken bones caused by a strike to the area or by twisting the shoulder
Dislocation – occurs when bones are pushed or pulled out of alignment
Nerve injuries
Separation – occurs when torn ligaments separate the collarbone from the shoulder blade
Rotator cuff tears – tendon damage caused by a direct blow or a fall.
Source: WebMD
The West Palm Beach shoulder injury lawyers at the law firm of Freeman Injury Law understand the challenges involved in documenting and proving your injuries. We have the medical and legal knowledge to construct a solid case designed to win the full compensation available. If you've been badly hurt, our shoulder injury lawyers know how to represent your interests and how to negotiate effectively with insurance companies and other involved parties. Legal time requirements may limit your ability to file a claim for your injury so we urge you not to delay in contacting us after you've been hurt.
Because they have extensive medical training in addition to their legal knowledge, the West Palm Beach personal injury and wrongful death lawyers at Freeman Injury Law know that the shoulder is a complex part of the body. It consists of a ball-and-socket joint and contains three bones: the shoulder blade, or scapula; the collarbone, or clavicle; and the humerus, or upper arm bone. Surrounding tendons, muscles, and ligaments hold the shoulder structure together.
Shoulder injuries can happen in a variety of circumstances. Certainly, car accidents can cause harm, but so can falls, workplace accidents, contact sports, and other activities. In these situations, injuries can happen in an instant, bringing with them severe pain. Swelling and/or bruising may occur, too. When the injury involves nerves, you may experience weakness, tingling, numbness and discoloration in your arm or hand.
Your doctor will diagnose your shoulder injury by performing an exam. In addition, diagnostic tests such as x-rays, magnetic resonance imaging scans (MRI) or computed tomography scans (CT) may be ordered. Treatment depends on the exact nature and severity of your injury. Ultrasound, special strengthening exercises, steroid injections, slings to immobilize the shoulder, and other approaches may offer relief in some cases. However, the shoulder injury attorneys at the law firm of Freeman Injury Law know that serious injuries to the shoulder may require surgery.
When you've suffered a shoulder injury because a motorist, an employer, or another party was negligent or careless, you need the advice of a seasoned personal injury attorney. Our shoulder injury attorneys in West Palm Beach have the medical training needed to fully understand your diagnosis and your medical care requirements – now and in the future. We are prepared to take action on your behalf to ensure that your rights are protected. Our attorneys know that you may be facing time frames that dictate your eligibility to file a claim. You can rely on our professional knowledge and our comprehensive understanding of Florida law to provide you with informed guidance. Our attorneys will work tirelessly to see that the person responsible for your injuries is held accountable. When you need a strong and proven advocate on your side, call our West Palm Beach shoulder injury lawyers today for a free consultation. We offer you a free consultation to learn about your rights.
Freeman Injury Law – (800) 561-7777 -- Someone on YOUR Side