What to Do in the Event of a Car Accident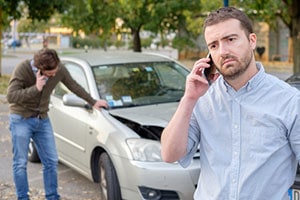 When a car accident happens, it can be a very frightening experience. Accidents can cause death, permanent injuries, and serious injuries that change the course of your life. The steps you take in the aftermath of a collision can have a big impact on what your rights are as you seek compensation for harm, so it is important to be prepared. While you may be shaken up after the traffic accident has happened, you should do your best to take as many of the following steps as possible so you can protect your right to receive full and fair compensation.
What to Do After a Car Accident
After a car accident, some of the steps that you should take include the following:
Always stop at the scene of the crash. If you leave the accident scene when property damage, injury or death occurred, you could be charged with a hit-and-run crime. The other driver has an obligation to stop as well.
Exchange contact information with the other driver. The other motorist should provide you with his or her full contact details as well as with information about his insurance. Liability insurance is not required in Florida, so the other driver may or may not have a policy that could provide compensation to you for your injuries.
Take photographs of the crash location and the damage to the vehicles. You should try to get detailed pictures showing the extent of the damage as well as illustrating how the accident happened. Many people today have phones that take pictures, so try to document as much as possible.
Contact the police. You should call the police so a law enforcement officer comes to the crash scene and makes a collision report. This report could prove invaluable as you try to make a claim for monetary compensation because it will show how the officer thinks the accident happened.
Get detailed contact information from witnesses. The witnesses to the crash scene could corroborate your story if the other driver tries to paint a different picture of how the accident happened. You'll need to show the other driver was to blame if you want to seek compensation and make a successful car accident injury claim.
Notify your insurer. Always let your insurance company know that the accident happened in case you end up needing their help getting compensation or in case the other driver turns out to be uninsured or underinsured. Your own Florida PIP policy should pay your medical bills despite who was at fault.
Get medical help. You should see a medical professional even if you don't think your injuries are serious. It is often possible for many types of injuries to manifest symptoms 24-48 hours after a crash or for severe injuries to initially appear mild. You want documentation of the full extent of injuries in case you need to make an accident claim.
By following these steps, you can make sure you are able to prove that an accident happened, that the accident was severe, that the accident was caused by the other driver, and that the accident was the direct cause of injuries. Being able to prove these things can help you to successfully obtain compensation for crash losses.
Contact a Florida Injury Lawyer
One of the other important things to do after a collision is to speak with a Florida personal injury lawyer. An attorney provides many different types of invaluable assistance after a crash. Your injury lawyer, for example, can explain your rights. You may be able to sue multiple defendants, including the car manufacturer, another driver, or another driver's employer. You can sometimes file a lawsuit for injuries even if you were partially responsible for the crash, and you can almost always file a workers' comp claim when the accident happened on the job, no matter who was to blame.
Being able to pursue a claim can help to ensure you are able to get the medical treatment you need and the money necessary to support yourself and your family if injuries affect your ability to work or your future earning potential is impacted. Freeman Injury Law has helped thousands of victims of Florida traffic accidents to ensure their financial security with successful injury claims, and we are ready to help you any time after an accident. Call us at (800) 561-7777 or contact us online any time to schedule a free evaluation of your case after an accident.