Choosing Motorcycle Accident Attorneys in West Palm or Fort Lauderdale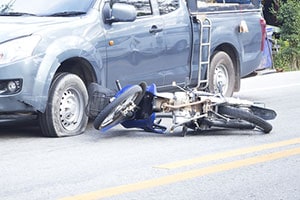 The Sunshine State's reputation for beautiful weather and tropical scenery make Florida an ideal setting for motorcycle rides. In addition, the affordability of motorcycles and their excellent gas mileage add up to a popular option for those on tight budgets. At the same time, motorcycles can be notoriously difficult for other drivers to see, causing dangerous conditions on Florida's roads.
About Motorcycle Accidents
According to Florida's Department of Highway Safety and Motor Vehicles, motorcycle drivers and their passengers accounted for nearly 16% of traffic fatalities on Florida roads in 2009.
Injuries
Motorcyclists - 7,435
Motorcycle passengers - 767
Fatalities
Motorcyclists - 376
Motorcycle passengers - 26
Fatalities, Broward County - 23
Fatalities, Palm Beach County - 18
Freeman Injury Law motorcycle accident attorneys know that crash victims need capable and aggressive representation to help them recover the compensation they deserve for the pain and property damage they've experienced. Our attorneys and professional staff provide individualized attention and confidential consultation to ensure that motorcycle accident victims receive the knowledgeable assistance they need. Motorcyclists often take measures to enhance their visibility by wearing reflective clothing, by using the headlamp and lighting system on their machines, and by learning where other drivers' blind spots might be. In addition, many riders and passengers routinely wear helmets that meet established safety standards. Despite those precautions, accidents in Broward and Palm Beach counties claimed the lives of 41 motorcyclists according to the most recent year's statistics.
Just how costly can motorcycle accident injuries be? Research by the National Highway Traffic Safety Administration explains that medical care is an expensive component of injury costs. After acute care is received, treatment may be needed on a long-term basis. Some injuries may result in permanent disability to motorcyclists, adding up to life-long expenses. Head and spinal injuries are just two examples of damage that can have long-lasting effects. Those injured in accidents may also suffer the costs of lost work time, equipment damage and more.
The aftermath of a motorcycle crash can be a confusing and painful time. If you've been injured while riding a motorcycle, you may need the services of an attorney who specializes in personal injury cases. The Fort Lauderdale and Miami motorcycle accident lawyers at Freeman Injury Law have the skills and experience to analyze accident records and help you recover any compensation to which you may be entitled. Call our offices today for a confidential consultation. There are no fees unless we recover funds for you. Don't face insurance companies alone. If you're suffering the painful effects of injuries from a motorcycle crash, you need the attorneys of Freeman Injury Law on YOUR side.
Freeman Injury Law – (800) 561-7777 -- Someone on YOUR Side